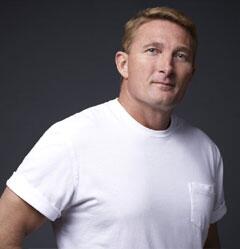 Interview Done By Mike Wilkerson
MW: Please introduce yourself?
WW: Wyatt Werneth from Cocoa Beach.  Captain Caveman from team Epoch.
MW: How did you get cast to be on Opposite Worlds on SyFy?
WW: I am not sure exactly. I received an email from a former casting agent I think requesting me to apply. I sent an email and there I was in front of the Producers and then in a cave. WoW!
MW: How did you like being on Team Epoch?
WW: I loved the Cave Life! I would have taken a bullet for everyone on my team. Unfortunately they did not feel the same way. Maybe I enjoyed the Cave Life too much. I did not care if we got into the future. I believe we could have controlled the game from the past and picked off all the weak players up to week 4. Who knows what would happen next?
MW: What did you think of Team Epoch?
WW: THEN- GREAT!  I love my team. NOW- May they rot in the past. I provided every comfort they still have.
MW: You lost at The Duel Of Destiny. What happened?
WW: I think a higher power stepped in. I was winning and deep down inside I did not want team Epoch to have the win. And I did not want to return to a team of back stabbers. If I knew I could win and ask for Jesse to stay and I could go home I would have liked to have slapped team Epoch in the face with that.
MW: What could have you done different?
WW:  UHMM…Stayed in the game. If Charles had stayed in it would have been a completely different game. I wanted to go to the end just me and Jesse for the final 2. America would have had to wait for the revenge battle. That would be cool.
MW: Do you wish you would have ended it with Team Epoch differently?
WW: Would you?  In the military if your battle buddy does not have your 6 and lets you get f***ed up.  You get mad. You do not want fake tears and hugs. Warrior Ethos. Watch my 6- I got yours. I know it's a game. It was way too early for that kinda play on a team mate. I told the team when it comes down too giving everyone a gun and we had to kill or be killed, I would shot myself rather than anyone on my team.  Its only 60k. My integrity is worth way more than that. I guess their price was lower.
MW: Who did you like to hang out with on Team Epoch?
WW: Charles.  I went to see him in Orlando today. He is getting surgery soon.  Wish him the best please.
MW: Who did you not like to hang out with on Team Epoch?
WW: we had no choice, we had to huddle to keep warm. Steve became my least favorite. He made a statement that the old guy had to go. That's the way it is done on other reality shows so the younger group did not have a father looking over them. Bitch!
MW: If asked to come back into the game would you?
WW: Sure, I would like to take Jesse on at the end.
MW: Would you want to be on the same team?
WW: Yes…they may not like me being back.
MW: What do you think about what happened to Charles Haskins?
WW: It appeared to me that the other team wanted to injure everyone on our team. I was pissed off.
MW: Who you think will win Opposite Worlds at this point?
WW: Jesse!
MW: What do you do in your everyday life?
WW: I Work for Bauer Compressors. I sale, train and demonstrate military/public safety dive equipment. I have been working with Rapid Diver to save lives from submerged vessels and vehicles. Rapid Diver is a new scuba system that can be deployed very fast. I also spend time with my family at the beach surfing and working out. Full of Joy!
MW: What would you like to say in closing?
WW: Keep watching OW America! I think I would have lasted longer on survivor. They always keep the person around that feeds and help makes life more comfortable. I was surviving for real. The Cave Life ROCKS! Yours truly Captain Cave Man.