Interview Done By Mike Wilkerson
MW: Please introduce yourself?
AG: Hi everyone, I am Arturo Gil and I stand 3'6". I am blessed to be a working actor and my acting career spans over two decades. I've played roles from mythical, to aliens, monsters and even a drag queen. I currently star as El Machete on a Spanish variety show called Estudio 2 on Estrella TV.
I was born in New Orleans, La but spent my early years in San Juan, Puerto Rico where I learned English and Spanish. In 1973 my family moved back to New Orleans where I spent my teenage years. Then in 1982 I moved to Los Angeles, Ca and have been here since. I hope that's enough of an introduction.
MW: How did you get into the entertainment business?
AG: Acting was not my first entertainment experience. I wanted to become a Disc Jockey at a radio station. At first I secured a job spinning disco, R&B and Rock 'N' Roll at a night club in the world famous French Quarter. Later I joined WWOZ where I trained volunteers and produced Jazz and R&B radio shows. I became interested in acting after my move to Los Angeles in 1982. I started standing-in and photo doubling for kids and then in 1985 I was hired to be a Dink in Mel Brooks' Spaceballs. I also received my Screen Actors Card thanks to Mel Brooks and Spaceballs.
MW: Tell me about being in Spaceballs?
AG: A good friend invited me to audition for Spaceballs and I was amongst 20 or so Little People wanting the gig. The casting director first lined us up against a wall outside Mel Brooks's office at the old MGM Studios now Sony Studios. Mel Brooks popped out of his office and quickly starts going down the line of little people and pointing to actors he wanted and thankfully he pointed at me.
It was one of my favorite experiences in my acting career. I got meet some wonderful actors like Daphne Zuniga, Bill Pullman, Mel Brooks and John Candy. John Candy gave us Dinks a plaque thanking us for a great job and it included a Milkbone dog treat on top. He sure was a great actor and comedian.
MW: How was it working with Mel Brooks?
AG: It was a joy working with Mel Brooks. He would always tell funny jokes and make us laugh. He made sure everything was just right and shot the way he wanted. I really loved his performance as Yogurt. "May the schwartz be with you!" I love his humor in all of his films.
MW: Give me a story from the set of Spaceballs?
AG: Originally the Dinks were supposed to come up through the sand when the crew crashes their Eagle 5 Winnebago RV ship in the dunes. Production dug deep holes and made elevators that would make us rise through the sand. Unfortunately the rig didn't perform as they had expected. So, instead they had the Dinks march and sing a version of the "Colonel Bogey March" from "The Bridge on the River Kwai" on top of a sand dune and discover the survivors below. After each take, we rode sand rails to get back to the top of the dune to shoot several more takes.
MW: Next would come Bill & Teds Bogus Journey. How did you get the part of Station?
AG: Originally another Little Person had the role but he got hurt during a stunt in the Station suit. Production frantically called my agent and asked if there was anyone else the same size that could replace the injured actor. My agent suggested me and if I fit the suit, the job was mine.
MW: How was it working with a young Keanu Reeves?
AG: It was great working with him and was always concerned about us in the Station suit. The suits were heavy and hot.
MW: What story can you tell me about being on the set?
AG: We were on location filming at Vasquez Rocks in the heat of the day. The FX crew gave us cool suit vests like the ones race car drivers use. On one of the hottest days they decided to run ice old water through the vests and I felt that I might go into shock. My core temperature dropped down too fast. Finally I said no more cool suit and I will let my body and my sweat control my core temperature. I also remember drinking tons of water and not having to pee. It all came out of my pores as sweat.
MW: What has been your favorite TV show to be part of?
AG: One of my favorite shows to be a part of was Ally McBeal where I played a normal part. I played Douglas Mcgrath a man that fell in love with a tall woman online. She didn't know I was short and she finally meets me and freaks out. She then sues me for non-disclosure. Go figure. It was awesome working with talented actors like Calista Flockhart and Robert Downey Jr.
The Man Show was another fun gig. I got to party, hang out with Adam Corrolla, Jimmy Kimmel and the girls on trampolines. And then there's my current job as El Machete on Estudio 2 on the Estrella TV network. On Estudio 2 I get to wear outrageous costumes and wear fx makeup. Every show I come out in a different costume and spill slime on contestants if their singing sucks. Good times!
 MW: What do you remember about being in Leprechaun 2?
AG: Getting to meet Willow aka Warwick Davis and his lovely wife Sam. I stood in, photo doubled and did stunts for Warwick.  We're longtime friends now and every time he comes to the LA area we'll meet up and hang out.
MW: Did you get to work with Warwick Davis at all?
AG: See above… Yes, on Leprechaun 2, 3 and 4.
MW: Tell me about your scene in Leprechaun 2?
AG: If I recall, I think it was St. Patrick's Day, I was dressed up like a leprechaun and I was on my way to the bathroom when someone thought I was the "I want me gold" Leprechaun. You know, we little people always get confused with others. 
MW: How was it doing the movie Dirty Work?
AG: I was a bit anxious because I didn't know what I was getting into. But when I got there I felt comfortable and enjoyed myself.
MW: What do you remember about being in Dirty Work?
AG: It was a quick trip up to Canada. But I do remember meeting the beautiful Bearded Lady aka Rebecca Romijn.
MW: Who from Dirty Work do you remember working with the most?
AG: Well of course Bob Saget who directed me in Dirty Work, Norm MacDonald and the funny Artie Lang.
MW: Tell me about being in Monkeybone?
AG: I believe they wanted to cast a thinner guy but I guess they liked my performance and I was used to working with fx makeup. They wanted someone who could handle the make-up and the huge contacts they put in my eyes. They hired a special technician to insert the sclera lenses in my eyes. The lenses covered the whites of my eyes so all you saw was black rat eyes.
Eating was a challenge since the rat mouth would not open enough to eat solid foods. So, long straws where used to suck up the delicious fruits smoothies they made for me to keep me full and nourished.
MW: That movie seemed like a blast. How was it to do it?
AG: Yes it was a blast and it was another one of my favorite films. It was a riot working with Brendan Fraser but I closely worked with Giancarlo Esposito and the lovely Rose McGowan. I had the honor to work again with Rose on an episode of Charmed.
Monkeybone had so many different characters and creatures. There were so many that multiple FX houses had to be retained. Todd Tucker designed my Rat Guard foam latex head. Todd did a plaster cast of my head and then sculpted the finished head.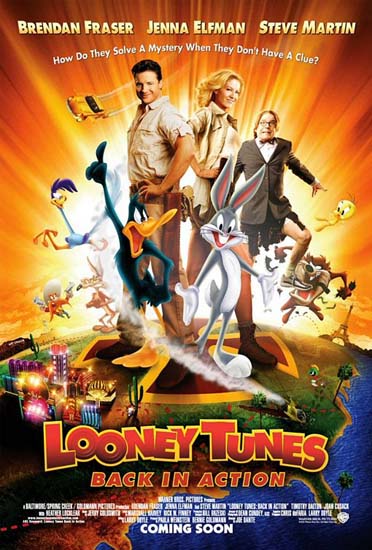 MW: What was it like to play Dancing Yosemite Sam in Looney Tunes: Back in Action?
AG: Second time working with Brendan Fraser and oh my, we had to learn some choreography and I have two left feet. But after rehearsing, I finally got the steps and it looked cool on film. Heather Locklear was charming in person and was very sexy as Dusty Tails.
MW: That is pretty cool you played an Oompa Loompa in Epic Movie. Would you have liked to be an Oompa Loompa in the Willie Wonka remake?
AG:I love working on spoofs and loved playing an Oompa Loompa in Epic Movie. And yes, of course I would have liked to have played an Oompa Loompa in Charlie and the Chocolate Factory the remake. I missed seeing different body shapes for the Oompa Loompas like in the original film.  
MW: What can you tell me about your time on the set of Epic Movie?
AG: The set was amazing. It had a chocolate river running through the set, bright colors, candy all over, mushrooms and little people wearing pink outfits. It looked like a dream sequence or a land you would see if you were medicated or high. And again we had to learn some choreography for the end credits. We all had a blast.
MW: What else do you have going on in the near future?
AG: I am slated to start working on a film in June called "Wizard's Dream" directed by John Buechler. John and I have worked together on several films including Garbage Pail kids where I played Windy Winston. He thought I was the perfect height for a part he had in mind in the film.
MW: What conventions will you be signing at in the future?
AG: I'll be signing at the Port City Pop Con in Willmington, NC. I believe this going to be a big convention. The promoter has big names going, cosplayers, vendors and cast members from "The Walking Dead". Check out who is coming here: www.portcitypopcon.com
MW: What would you like to say in closing?
AG: In closing, I would like to thank you Mike for the opportunity to share some of my movie stories to your readers. I must say, I totally enjoy what I do and I am glad to be part of this crazy business. I love sci-fi, monster movies, Aliens, gore, blood, FX, I love pretending and I welcome challenges as an actor and a human being. Finally, I would like to encourage "Hollywood" to use more actors with dwarfism, disabilities and ethnic backgrounds in films and TV shows, to create a more realistic reflection of our world. And stop using tall actors as dwarves, elves and small creatures!